UNITY: PEACE THROUGH NONVIOLENCE
2018 Unity Breakfast
THE EDUCATION FOUNDATION OF THE ALPHA BETA LAMBDA CHAPTER OF ALPHA PHI ALPHA FRATERNITY INC.
Tickets will be available July 1st 2018 for Purchase
2019 Unity Breakfast — UNITY:
The breakfast involves individuals from all walks of life as guest speakers and program participants and is open to every diverse segment of this community. The breakfast supports the Alpha Phi Alpha Education Foundation's many community outreach programs and allows the Foundation to acknowledge individuals and organizations who promote unity within this community.
Alpha Beta Lambda Chapter Education Foundation is tax exempt under section 501c3 of the Internal Revenue Code.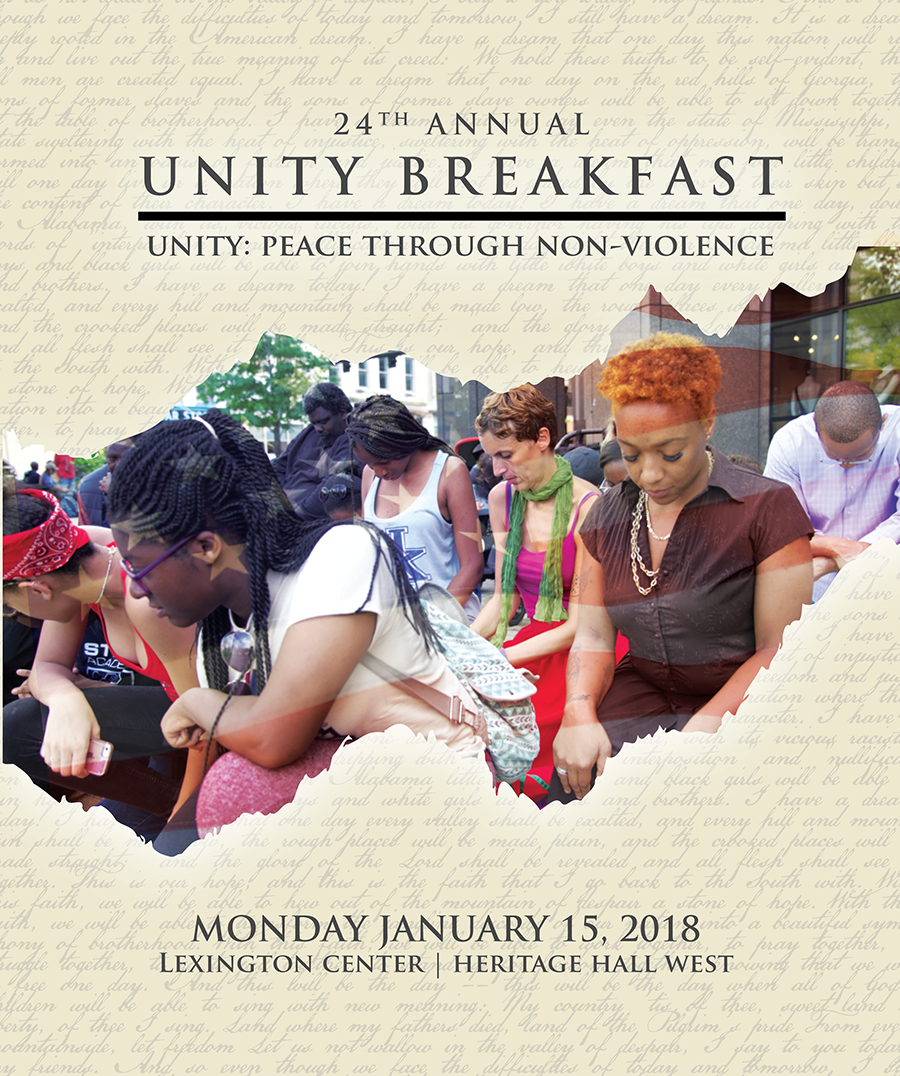 WE ARE VERY GRATEFUL TO THOSE INDIVIDUALS AND ORGANIZATIONS THAT ARE SPONSORING
THE UNITY BREAKFAST
For Sponsorship
As non-profit organizations, Alpha Phi Alpha and the Alpha Phi Alpha Education Foundation welcome corporate and individual sponsorships of the Unity Breakfast. Such sponsorships have enabled us to consistently present a high-quality program, with outstanding speakers who challenge our community toward improvement on many levels. If you are interested in becoming a sponsor, please call us at 859-539-5337 or use the contact form on the website.
Sponsorships can take many forms, ranging from monetary donations to purchase of advertisements in our Unity Breakfast Program, to attendance at the Unity Breakfast (tables may be reserved for your organization), and Silver, Gold and Platinum level sponsorships. The box to the right of this page provides a variety of information about our tax-exempt status, past Unity Breakfasts, sponsorship levels, and advertising.
JOSHUA M. NADZAM
CO-FOUNDER, ON THE MOVE ART STUDIO
2017 UNITY AWARD
JESSE CRENSHAW, ATTY
2017 UNITY AWARD
2017 ALPHA SALUTES
FRANK X WALKER
2017 ESSAY CONTEST & READING — 1st Place: 8th Grade – Morton Middle School
RICHARD STINETORF
2017 ESSAY CONTEST & READING — 2nd Place: 8th Grade – Morton Middle School
CAYDON VOSS
2017 ESSAY CONTEST & READING — 3rd Place: 8th Grade – Morton Middle School
HALEIGH KAELIN
 Unity Breakfast Essay Contest
  The 2018 Essay Contest details and application will be available in September 2017.  Eligibility: Open to all Fayette County middle school students
PRIZES
First Place:  $500 cash and invitation to read his or her essay during the 2018 Unity Breakfast on Monday, January 15, 2018 in Lexington.

Second Place:  $300 cash.
SUBMISSION RULES
The essay must be the student's own work.

The essay must be no longer than one page, double-spaced, in 12-point Arial font.

The essay itself is your entry form. Please read the instructions on the reverse of this sheet carefully!

Each essay must be attached to a signed and completed General Release Form (see reverse).